START YOUR BIRTHDAY CLUB AND LET US MANAGE IT!
Let us send More birthday parties to your restaurant
INCREASE BIRTHDAY PARTIES IN YOUR RESTUARANT BY 10X!
Birthday Parties Boost Your Restaurant Revenue!
Birthday parties have more guests per check, more appetizers and drink sales, $87 or more per party.
Fill in the form below to Start Birthday Marketing in your restaurant. 
Target
Birthday parties
Every month we target people celebrating a birthday near and around your restaurant
Social & Mail
celebrate at your restaurant
We send birthday gifts and promotions through email/text/ Social Media and Mail.
17 Years
of celebrations
We have been sending birthday promotions for more than 17 years and helping local businesses thrive
11 million
guests have celebrated 
Millions of people have received a card in the mail, online invitation, text and email to come celebrate at a local restaurant like yours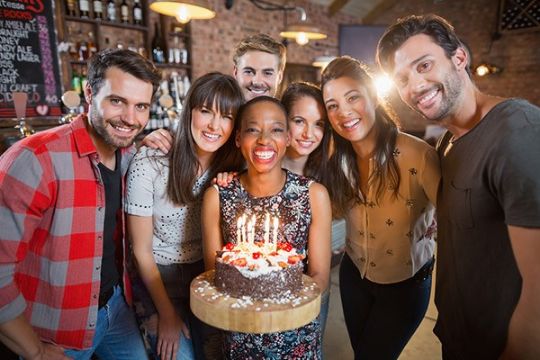 Why Birthday marketing?
* 7 out of 10 adults dine out on theirs or someone else's birthday?
  Making birthday parties the #1 dining event
* Increased Party size
  The # of diners in a birthday party 2-20
* Higher Check Averages
   Average check for Birthdays is $87
   25% and higher redemption rates
   Significantly higher profits per cover
 
Your restaurant gets new and repeat business with higher check averages, Customers are more likely to arrive with a larger party, and spend more per person. Your wait staff loves birthday parties with higher tip averages.     

Celebrating birthdays is good for your business, your guests and your employees. 

Birthday Club in a Box
MORE BIRTHDAY PARTIES = MORE PROFITS 
FanCONNECT's Birthday Club is a complete Birthday Marketing System in a box that includes:  
* Get Local Birthday Diners every month
* 7 Customer list building tools
* Promotion Center Dashboard 
* Anniversary and other Special Occasion Marketing
* A follow-up system that boosts repeatable business
Turn-Key and Managed For YOU! 
CALL: (813) 490-7255  
CONnect with us
OUR CONTACT information
© 2021 All rights reserved.